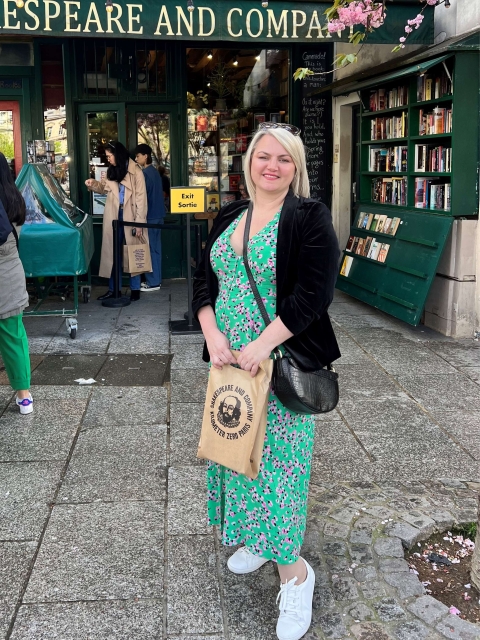 Each month, the Graduate School is sharing a Student Spotlight with our postgraduate research community, highlighting the amazing research being undertaken by our postgraduate researchers.
Our Student Spotlight for May is Sarah Groszewski, a part-time second year PhD law student.
She recently presented at her first conference following the PaDLOC session on writing an abstract held in January. She wrote her abstract during the session with helpful feedback from Jane Creaton and the rest of the group, and submitted it the following day.
The abstract was accepted and she presented her work virtually at the McGill Graduate Law Conference on May 4th and 5th . This year's theme was 'Law and Prejudice' and her presentation 'Family Law: does it work for the whole family?' covered a literature review of the impact of section 8 orders on separated mothers.
She was also chosen to be a discussant in the Cohen Doctoral Seminar discussing the research of Suzana Rahde Gerchmann from City University London focusing on Gendered Subjectivity, Law and Capitalism: Identity, Gender Pricing, Women's Oppression and the Role of Law in Emancipation. The discussion won the joint prize for Best Contribution to the Cohen Doctoral Seminar.
As a part time student balancing her PhD, employment and parenting Sarah is a keen advocate for flexible, online learning. She recently attended UN Women Commission on the Status of Women 67 (UN CSW67) as a UK Delegate. The theme this year was 'Innovation and Technological change, and education in the digital age for achieving gender equality and the empowerment of all women and girls', and her experiences of part-time and distance learning through PaDLOC enabled her to make valuable contributions to the future plans of CSW67 to work towards closing the gender technology gap.
She is hoping to present her work at the PGR Law conference and the BAL Research and Innovation Faculty conference in June.