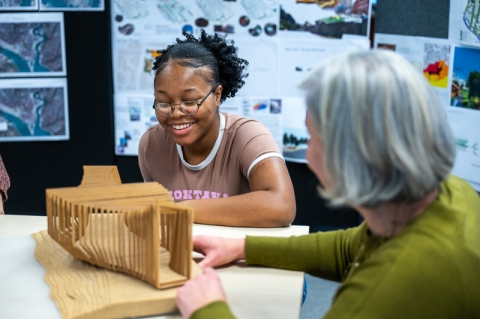 Learn more about what students in this school do while on placement and how Creative Careers can help
As a creative student there are many different responsibilities you may have while on your placement and each role varies with the company. From UX Designer to a Fashion Studio Intern, you can gain and develop your skills in the real world.
UX Design
Some students have translated concepts into flows, wireframes and mock-ups which are intuitive to a user's needs. They were also in touch with clients to understand their users and their business goals and collaborate with other members of the team to investigate design issues. There are many duties of a UX designer, which require a broad skill set and a positive attitude as you are primarily client facing and talking to a lot of users. One student was given a unique role in the business for all internal UX requests where they dealt with print, pitch deck proposals, website designs and more.
Graphic design
In the past, a graphic design role has also involved anything from coming up with ideas and designs for infographics, tip sheets and eBooks, to social media posts, direct mails and landing pages. You could also be working on a range of media across print and digital designs and have the responsibility of ensuring amends are completed accurately across all brand collateral. A previous student had this experience and they worked with the marketing team in order to establish client objectives and how the designer's work could be progressed in a way that accommodates everyone's needs. 
Another graphic design student learnt about validated testing, atomic design and its value in boiler plates and large scale design work, which they thoroughly enjoyed. Research was a heavy component for one student but they were still able to be creative when building wires and high-fidelity visuals. The student mentions that there was a healthy balance between research and design which improves the end result tenfold as you have clear vision, strategy, and reasoning for an approach.
What does it like to work a day as a designer?
Every day can be varied. A typical day for one student was receiving their brief in the mornings and spending around an hour sketching out ideas for how to lay the content out on the page and then later on talk through the concept with their team to make sure they are on the right track. They say it is much easier to start working on things like this when you have a plan. 
Some designers have also undertaken roles in projects that weren't typical graphic designer roles and shadowed directors and producers creating video content and found that they really enjoyed that experience.
---
Fashion
Fashion students have had a similar experience.
One fashion student worked with the Quality Assurance department as a Clothing Technical Assistant. She had the experience of testing children's clothing, which is a particularly high-risk area and attending and running fit sessions ensuring best fit for purpose and doing general admin tasks. She was also involved in various projects like writing a quarterly supplier newsletter, creating a series of Illustrator Flats showing suppliers how to fold different types of clothing to avoid creasing during transportation (see below) and designing care labels for small soft accessories (ties, bowties, handkerchiefs, etc.).
Another student spent a lot of time running errands and interacting with factories and customers, sampling and toiling designs and assisting with the organisation and tidying of the studio. They also spent the last few weeks of the time there being solely responsible for pattern laying and cutting out the pattern pieces for all of the in-house production. This was a big responsibility, as they had to ensure they matched the sample garments, and that no mistakes were made.
Other fashion roles can involve sorting out fabric selections, contacting and liaising with factories and suppliers, pulling out suitable trims and fabrics from the archive, updating and organising the design boards and inputting all of the season information on spreadsheets.
What do students say about taking a placement year?
Students say that they developed many skills whilst working without even realizing, with communication skills being a major one, due to the collective experience of having to approach different people across and outside the business in order to complete some tasks.
Looking for a placement? Creative Careers can help!
Creative Careers help students from building their CV all the way to the final stage of application (whether that is an interview or an assessment centre). The School of Art, Design and Performance is a large part of Creative Careers and students in this career path have found placements with our help.
Companies that students have previously worked for are:
MMT Digital
Lumesse
Identity Consulting and many more
Students about Creative Careers
One graphic design student said that they had a lot of support through Creative Careers. Creative Careers set up a few meetings to talk about their progress and advice on interviews. We helped put them in contact with students that previously had placements at Disney and Universal so they could understand what to expect. We supported this student in brushing up on a couple of things that were lacking or that were missed from applications. They also attended some of the talks on placements which are a good insight into the year as a whole.
Another student mentioned that our advice on updating CV, writing cover letters and CV practice was helpful to them. Writing job applications can be daunting and this student talked about how we were in regular contact with them and gave them the confidence to apply. Although this student was sure they wanted to go on a placement, they were hesitant on applying before approaching Creative Careers and eventually we found a role for them and although it was different to what they expected, they enjoyed the experience.
Another student was grateful towards Creative Careers for our support, and encouragement in pushing them to go for roles they may not have otherwise considered.
While another student describes the expansion of our team from one Student Placements Officer in a tiny office hidden in one of the wings of Eldon to two more lovely team members in the spacious Creative Careers office right in the reception area.