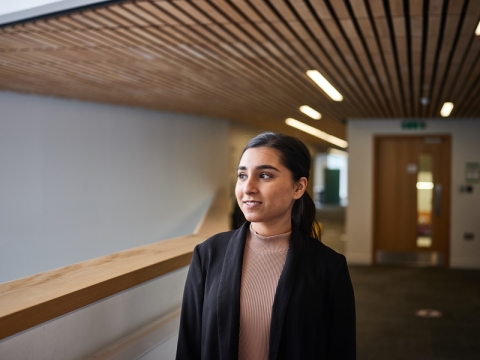 Find out what architecture students did on their sandwich placement year
Interior design and architecture students have had some interesting roles. One student worked as a Placement Design Manager working closely with  Senior Design Managers and the projects he has been assigned to. Another student worked in construction on projects from the tender phase through to construction which enabled them to see buildings in the process of being built as opposed to just writing about it.
A student worked in the private sector as a Store Development Assistant. Their daily tasks included project management, sketch design work, implementation of store designs and maintenance, procurement, coordinating international shipping and logistics plus engagement with partners and suppliers.
Another student had three different placements. Their first role was to generate models to explain the design ideas produced, CAD spatial drawings, SketchUp modelling and presenting these ideas to senior managers/CEOs of the De'Longhi Group. Their second role was to assist with the managing of the design of the storyboards, materials and then presenting these in a pack to send off to the client. Then putting this information into the software, EstiPC, and completing site visits, both with the managers and being trusted to go alone. In their third placement they had to support the designers in amending drawings, going to site surveys with them, helping to keep the fitting diary up to date and help to manage the designers' workloads.
Students have learnt a lot of jargon and terminology they were not previously familiar which helped them write their dissertation. Besides the technical skills students also support the rest of the department with tasks that they need help with doing. They attend different types of meetings, visit sites and go on courses. One student said it was an invaluable experience as they went from never having set a store up to successfully re-opening a concession essentially overnight. This was the highlight of their placement. Their placement helped them secure a role as an architectural assistant.
Creative Careers Support
Creative Careers have helped a lot of architecture students in the past. All the information you need is on Moodle under the Creative Careers tab, this includes CV examples, how to prepare for an interview, what to expect from a placement and so on. You can pop into the office or send an email whenever you need any help/advice.
Architecture students have said:
"Creative Careers were brilliant throughout my search and applications. They encouraged me to use their resources as much possible and are really helpful if you ever need any advice. They provide CV and covering letter checks to ensure you are making yourself as employable as possible and give you the chance to do mock interviews to prepare you for the type of questions you may be asked. They also dealt with my contracts for my current work placements to ensure everything was correct and that I was being given a fair contract."
"Creative Careers support you in every way they can when it comes to applying for placements, using many different platforms. You can always pop in and see them or make appointments whenever it is convenient, but they have many other ways to help you improve your employability."
"Firstly, you have the CV and covering letter checks, as many times as you like to ensure you are presenting yourself professionally. Then you have Moodle, where you can find vacancies to apply for. As well as this you receive vacancy emails regularly from Creative Careers."
To kickstart your career and gain these skills please contact us at creative-careers@port.ac.uk.