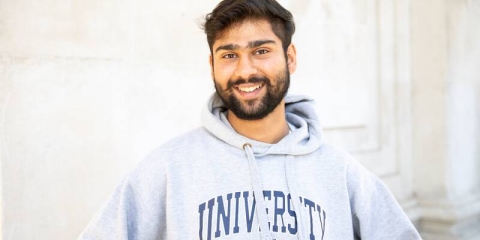 Pushpinder from India talks about how he made friends at university and explores the city by bike - International Student's Day 2022
International Students' Day is an opportunity to celebrate our awesome international student community. This year we share five stories from our students about their experiences so far.
Pushpinder, a second-year Law student from India talks about how he made friends at university and explores the city by bike. 
What made you choose Portsmouth?
I chose Portsmouth because it was highly rated for my course and many of the tutors are international so that gives you a good global network. You can learn a lot from their perspectives– it really helps in terms of global communication skills. 
I also wanted to go somewhere that had a moderate temperature rather than too cold. I have family living in Canada and the USA and they talked about what it was like to live somewhere with a lot of ice and snow and I didn't want that. 
What was it like moving away from home?
I didn't just have to move from a nearby town, I moved across continents – moving away from my family. I haven't gone home yet – I have been here for more than two years now. I didn't experience much culture shock; some things are similar to home. But the timing didn't help. I came during the pandemic- the first wave was done but I was here for about a month and a half before it got serious again and all lectures had to move online again. It was a challenge to get into my studies while I was still trying to work out where to buy groceries – it was all new. 
I love walking and I love cycling. I have definitely explored Portsmouth – I am sometimes like, you know what, let's go around the city. So I get my bicycle and go from the seafront all the way across to the naval base up to the northern part of the city – Hilsea and back down. I carry a little bag of snacks, sandwiches and I enjoy the day. It is how I got to know the local area. 
What made you feel part of the University community? 
It was quite difficult to make friends in my first year because everything was online and people don't always put their cameras on. But after that, things changed – I joined the India Society and was given the position of treasurer. They believed in my capabilities and this year I am the President of the Indian Society. So things have really turned around over time. I have made loads of friends and it is much easier because lectures are back on campus. Being able to walk around and see people in person has made a huge difference. 
Have you faced any challenges? 
I found it hard to find home cooking in Portsmouth. So I started cooking for myself – three meals a day for two and a half years now. I have changed a lot. Rather than just cooking basic items – I now cook all different cuisines. When my friends are craving something and the restaurants are closed I will give it a try. I am now pretty confident with my cooking. 
Do you feel a part of the local community? 
During the summer I had a part-time job in an ice cream shop in Portsmouth. I used to see the same people and it was really nice. They enjoyed talking to someone from a different country and talking to them was more lively than just serving them and not saying anything. I was really interested to meet new people because it makes a difference. 
I also volunteered for the Army Cadet Forces – I used to go training with them and support the cadets. I am just a couple of years older than some of them so I felt they could relate to me better than some of the instructors. I shared my experience and talked about what it is like at university and one of the cadets was really interested and is considering university after he finishes college so I feel like I have made a small impact in the community. 
What advice would you give your younger self before going to university?
I would tell my younger self to keep on top of their tech skills. Tech is evolving so fast. I learn one skill and there is a new version. I learnt photoshop a couple of years ago but it has changed completely. I would also tell my younger self to not spend money on random things that are not necessary.