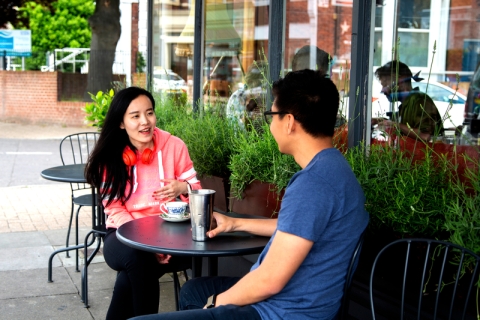 Everyone loves a good breakfast - whether it's something filling after a big night out, or savouring a lovely specialty coffee with a croissant. 
Here's a countdown of the top 10 breakfast and brunch spots that you can only find here in Portsmouth - as chosen by our students:
10 | Southsea Coffee
One of Portsmouth's original specialty coffee shops, Southsea Coffee has a well-earned reputation for delicious food and coffee. Their classic avocado on toast and ever-changing weekend waffles are local favourites.
Southsea Coffee, 63 Osborne Road, Southsea, PO5 3LS
9 | Spinnaker Cafe
If you're craving for a good old fashioned fry-up then look no further than the Spinnaker Cafe, making sure to take the time to stroll around Old Portsmouth. It's also budget-friendly with small breakfasts available from as little as £5.
Spinnaker Cafe, 96 Broad St, Old Portsmouth, PO1 2JE
8 | Bread Addiction
Famous for their amazing bread and pastries, Bread Addiction is a staple of the local food scene. Their breakfasts include a lighter pastry and coffee options, ranging up to eggs on toast and sandwiches. Why not treat yourself to a sourdough loaf to take home with you?
Bread Addiction, 54 Elm Grove, Southsea, Portsmouth, Southsea, PO5 1JP
7 | Farm Kitchen
A recent arrival to Palmerston Road, Farm Kitchen offers a unique Mediterranean twist on breakfasts. Look out for their delicious shakshuka, or Middle Eastern omelette. If the sun is shining, grab a table outside and enjoy a leisurely breakfast while you people-watch.
Farm Kitchen, 67 Palmerston Rd, Southsea, Portsmouth, Southsea, PO5 3PP
6 | Feed
Tucked away under railway arches near Gunwharf, Feed's breakfast is not one to be missed. They offer a range of cooked breakfasts, but also pancakes stacked with everything from bacon to biscoff. 
Feed, 7 The Hard, Portsmouth PO1 3EA
5 | The Canteen
As well as breakfast stacks and eggs on toast, The Canteen also offers lighter options like granola and sausage sandwiches. It's a lovely spot, in the historic Hotwalls of the city. Grab a seat on The Deck if you can, to watch all the comings and goings on in the Solent.
The Canteen, Broad St, Old Portsmouth, PO1 2FS
4 | Parade Tearooms
The ever-popular Parade Tearooms offer a wide range of breakfast options at both their locations on Southsea Common and the entrance to Gunwharf Quays. Remember to get there early to avoid disappointment.
Western Parade, Southsea, PO5 3JF
Vernon Gate, Gunwharf Quays, PO1 3SF
3 | Southsea Beach Cafe
Southsea Beach Cafe's location is unrivalled, making the best of sheltered, lovely views from the beach across the water to the Isle of Wight. Options can include a breakfast burrito, a hash, or of course a full English or cooked breakfast.
Southsea Beach Cafe, Eastney Esplanade, Southsea, PO4 0SP 
2 | The Tenth Hole
Another popular seafront breakfast spot, The Tenth Hole offers a wide range of traditional breakfast options like fried breakfasts and sausage butties. Why not grab a game of golf afterwards? 
The Tenth Hole, Eastern Parade, Southsea, Portsmouth PO4 9RF 
1 | Garage Lounge
The most popular recommendation from our students, Garage Lounge is within easy reach of most of central Southsea. Their brunch is served all day until 4.00pm, and includes fried breakfasts, eggs on toast and omelettes - but also sweet options like pancakes and waffles.
Garage Lounge, 1 Albert Rd, Southsea, PO5 2SB