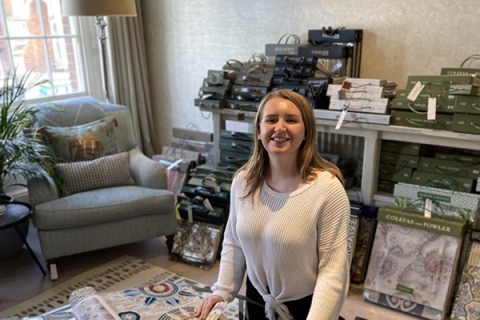 Interior Architecture and Design student, Rebecca Walford, on her placement experience
For her placement year, Interior Architecture and Design student Rebecca Walford immersed herself in the world of high-end interior design with a placement at Anne Haimes Interiors. Want to know more about her hands-on experience? Just read on…
Tell us a little about your placement…
My work placement was at Anne Haimes Interiors, located in Henley-on-Thames. They are a high- end interior design service, but also have a boutique where they sell bespoke furniture and accessories. I had the role of being an assistant to the designers, helping them with daily tasks but also having the responsibility of looking after the boutique and serving customers. I was able to work within all the different departments and observe each of my colleagues, giving me a variety of valuable skills.
I had a variety of tasks and responsibilities, such as helping the designers pick out fabrics for clients, being in charge of the boutique stock and rearranging the displays. I also got to create Auto Cad and Sketchup drawings for clients and be in charge of social media and blogging.
What worried you about doing a placement?
My biggest concern before the placement was not getting the experience to prepare me for my third year at university. However, this placement has given me so much more than I thought it could. It has helped me develop as an individual. From having many discussions with my colleagues and clients, my communication skills, both verbal and written, are so much more confident now. Being able to observe the designers daily, seeing them take on new challenges and their solutions, has been so valuable for my own design knowledge.
What was the highlight?
My first week at the placement, the designers had just begun a new seven-week project, which was just around the corner from the boutique. Therefore, I was able to see the home before any work and observe the designers transform the house from scratch. This was an amazing experience, and a great opportunity to develop my skills. I was able to visit the site daily with my boss, observing her discussions with workers on-site such as contract builders, electricians, plumbers. This consequently, has increased my knowledge of home structures. This whole project was inspiring, it was great to see the design transformation journey.
What skills did you get to use?
Having created many Auto Cad drawings in my second year at university, this prepared me and made me feel confident to complete plan drawings in the placement. I was able to help my colleagues, who felt less confident in Cad and taught them the basic skills to create a plan.
What advice would you give someone considering a year in industry?
I now feel confident and ready for my last year at Portsmouth. For anybody having doubts about doing a placement, I really recommend finding one. And try not to leave it too late to find something. Make yourself stand out with your CV; you need to show why you would be their best choice.
I have always struggled with confidence within myself and the work I have completed in the last two years of my course. However, having done this placement, I feel like a completely different person. Working along professional designers was a truly amazing opportunity and experience.