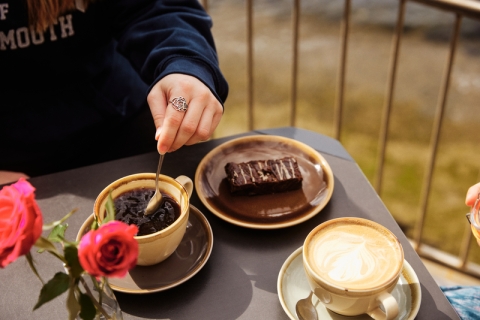 With warmer weather on the way, there's no better time to check out Portsmouth's hidden outdoor spots to enjoy a coffee, lunch or beer. 
From beer gardens to cafe patios, and even a castle courtyard - here are our top tips to check out this summer:
1 | Southsea Coffee
Wander through to the back of this Southsea institution to find a lovely plant-filled courtyard where you can enjoy amazing homemade doughnuts or cinnamon buns. And if there's no room outside, you can enjoy their indoor jungle instead!
Southsea Coffee, 63 Osborne Road, Southsea, PO5 3LS
2 | Baffled Coffee 
Famous for their epic sandwiches and top notch coffee, Baffled now has three spots across the city. If you head to their original HQ on Fawcett Road, you'll find a secret garden out back where you can enjoy a brunch or cocktail.
Baffled Coffee, 77 Fawcett Rd, Southsea, PO4 0DB
3 | The Courtyard
Enjoy a cocktail or a classic Sunday roast at this restaurant set within the stunning grounds of Henry VIII's historical castle. 
The Courtyard, Southsea Castle, Clarence Esplanade, Portsmouth PO5 3PA
4 | Cafe in the Park 
A stone's throw from our Anglesea building and Catherine House halls is this a super convenient but quiet spot to enjoy Victoria Park. And best of all, you'll know you're supporting a good cause as the cafe is run by a charity that supports local people in need.
Cafe in the Park, Victoria Park, Anglesea Road, Portsmouth, PO1 3HJ.
5 | The Canteen
The Canteen is a waterfront eatery within the historic walls of Old Portsmouth. The interior makes the most of the stunning architecture, but the best spot in the house is the Deck out back. Overlooking the mouth of the harbour, it's a front row seat to watch ships and boats big and small, while enjoying a drink or something to eat.
The Canteen, Broad St, Old Portsmouth, Portsmouth PO1 2FS
6 | The Garden
Breakfast, brunch and wood-fired pizza are all on offer at this secret spot just off Southsea seafront. Sit outside among the trees, or if the weather is looking dodgy, indoor tables are available too.
The Garden, Florence Road, Southsea, PO5 2NE
7 | Bold Forester
Enjoy classic British pub food - like fish and chips, pies and burgers - at the Bold Forester on Albert Road. The garden offers plenty of room to enjoy a drink in the sunshine.
Bold Forester, 177 Albert Road, Southsea, PO4 0JW
8 | Lord John Russell
Recently revamped, the Lord John Russell pub offers a range of stone-baked pizza, burgers and other sharing plates. Nip through to the back garden for lots of seating to enjoy good weather.
Lord John Russell, 12 Albert Road, Southsea, PO5 2SH
9 | The Beach Club
An independent beachside bar and restaurant offering a wide variety of food throughout the day. Hidden from view at first glance is their waterfront terrace, which offers fantastic views of the Solent. Chill and watch the sunset with a cocktail, or party into the night to Ibiza sounds every Friday during the summer.
The Beach Club, Clarence Esplanade, Southsea, PO5 3AE