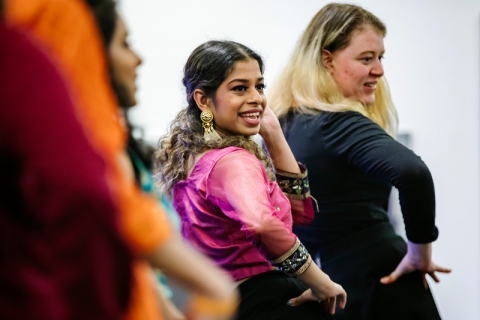 From free talks to music, fashion to food – there's plenty to get involved in this Global Week
This year's Global Week promises an eclectic lineup of food, sports, film and global environmental impact as we celebrate cultures from around the world.

University students, staff and the local community are welcome to a host of free events - including public lectures, film screenings and our flagship Festival of Cultures event.

Global Week runs from 16–22 March with the Festival of Cultures celebration - a night of colour, food and dance – taking place on 18 March. The events include:
Thursday 12 March – Jim Smith on Chernobyl: Science, Society…and Vodka
Based on his extensive experience of working on the aftermath of the Chernobyl accident, Prof. Jim Smith will discuss the health and environmental risks of radioactivity and how the media influence our perception of these risks. Booking required.

Monday 16 March – Guru Nanak 550th Anniversary Celebration 
Discover the life and history of the founder of Sikhism on the 550th anniversary of his birth. Our speaker Dr Jagbir Jhutti-Johal OBE set up the first Sikh Studies course in the country, and researches various aspects of contemporary Sikhism, including Sikhs and the law, gender, and science. 

Tuesday 17 March – Tansy Hopkins on the global impact of clothing
They've never been cheaper to buy, and we have never been more convinced that we need to buy them. Yet the cost of our shoes to the planet and communities around the world has never been greater. In this talk Tansy Hoskins opens our eyes to the dark origins of the shoes on our feet. Booking required.
Join us for Global Week 2020
Wednesday 18 March – Festival of Cultures
Last year over 1000 visitors attended the Festival, enjoying Chinese calligraphy, Arabic coffee, traditional Iranian music, henna, Cuban Salsa and Ghanaian fashion. Join us for an exhibition style showcase, followed by a range of performances. 
Thursday 19 March – Film screening of A Plastic Ocean
This free screening is a great chance to watch this incredible documentary. The Plastic Eating Enzyme research team will be giving a talk, and there'll be a chance to ask questions on the future of plastic use. Booking required.

Thursday 19 March – Bangladesh Water public lecture and celebration
A showcase of Bangladeshi history and culture, followed by a presentation from Her Excellency High Commissioner to the UK Saida Muna Tasneem, and a public lecture on drinking water and sanitation in the country by University lecturers Prof. Pierre Failler and Dr Mohammad Hoque, and the British Red Cross.

Other events include stories from refugees, and an Olympics-style sporting event for staff and students. A full programme of events is available via the Global Week listings.