WHERE TO EAT ON CAMPUS
When you're on campus, you're never too far from somewhere to eat, drink and relax


Looking for a coffee, lunch or a quick snack? Food on Campus has you covered.
You'll find 9 Food on Campus venues across the University, so you're never far from something delicious. In keeping with the University's overall sustainability aims, all our Food on Campus venues are committed to sustainable sourcing, minimising food waste and reducing our use of plastics.
Loyalty card
Your loyalty card, built into your student or staff ID card, can bag you a huge range of benefits.
You collect five points for every £1 you spend, and each point will be worth 1p which you can redeem against your future purchases at any catering venue across campus.
Loyalty scheme benefits include:
5% off every purchase
Coffee stamps – get your 9th coffee free
Seasonal bonus points and offers
A web-app to track your purchases and points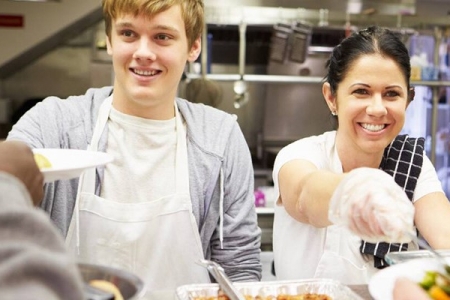 From eliminating single-use plastics, to local and seasonal produce — here's how we're helping the planet by promoting sustainable diets and reducing waste.
Our venues
Chimes Restaurant
The University's newest cafe, on the ground floor of the Learning Centre offering views over Portsmouth.
Opening hours: Monday to Thursday: 8.00am–5.00pm | Friday: 8.00am–4.30pm
The Hub at the Dennis Sciama Building
This large cafeteria has a good choice of cooked breakfasts and a 'make your own roll' sandwich bar. This is one of the busiest catering venues on campus – a great place for meeting up with friends, but not ideal if you want to get your head down and work. 
Opening hours: Monday-Friday, 8.00am-5.00pm.
Cafe Coco
A quirky tea room with a broad menu. It offers healthy snacks, Fairtrade produce and sweet treats. Cafe Coco is available for private hire.
Opening hours: Monday to Friday 8.30am–3.00pm
Boutique Espresso in Park building
Located in an impressive white-stone building, this cafe is a great choice for group work and solo study sessions.
Opening hours: Monday to Friday, 8.30am-4.00pm
Library Coffee Shop
This modern coffee shop with ample natural light is on the ground floor of the library. There's ample space for group working and laptop charging points.
Opening hours: Monday–Thursday, 8.00am–8.00pm | Friday, 8.00am–7.00pm | Saturday and Sunday, 11.00am–4.00pm
Boutique Espresso in Eldon building
Sip your coffee in this light, airy cafe in the Eldon building while you admire the work on display produced by our students on creative courses such as fashion, architecture and interior design.
Opening hours: Monday to Friday, 8.30am-5.00pm
Portland Coffee Shop
This smart and minimalist cafe overlooks the Portland courtyard. It has multiple laptop charging points and indoor and outdoor seating.
Opening hours: Monday–Thursday, 8.30am–6.00pm | Friday: 8.30am–4.30pm
St George's Coffee Shop
St George's coffee shop, located in the basement of St George's building, is small and cosy. It has a TV area, sofas and a bank of shared computers. 
Opening hours: Monday to Friday, 9.00am-2.00pm
901 Internet Cafe
Grab a hot drink and a snack in the 901 Internet Cafe where you can work on one of the many shared computers. The cafe is on the ground floor of the Anglesea building.
Opening hours: Monday to Friday, 9.00am–2.30pm
Temporarily closed
Some of our cafes currently remain closed:
Pit Stop in the Student Centre
Pit Stop offers the full Starbucks range and a unique street food menu: choose from chipotle chicken flatbread, BBQ pork sandwich or butternut gobi curry with naan. Remember to take a look in the Student Union shop while you're in the area.