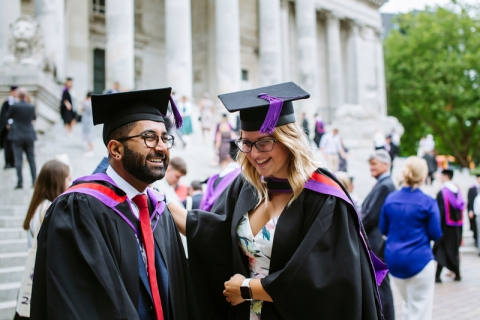 Over 9,500 students graduated at one of 48 ceremonies spanning nearly 3 weeks.
Graduates were able to celebrate their achievements with friends and family due to the huge undertaking from University staff who have been working around the clock to deliver this mammoth project. University of Portsmouth was one of the first universities in the country to deliver safe in-person events.
Not only were two years' worth of ceremonies combined into one - both last year's Class of 2020, and this year's Class of 2021 - but all  graduates were offered the choice of in-person or virtual ceremonies. This meant that those who couldn't attend in-person did not miss out.
A number of Covid safety measures were in place, in line with Government guidance for large events, to ensure the safety of staff, graduates and their guests. Among other measures, the ceremonies were running at less than half capacity to allow for social distancing, which increased the number of ceremonies being organised.
Despite graduation being a bit different this year, graduates were able to experience all that makes their day a real celebration of their hard work - the ceremony, the gowns, the photos and creating memories with their loved ones.
Stephen Wiggins, Academic Registrar and Director of Student and Academic Administration, said: "It's been an enormous undertaking to deliver this many graduation ceremonies under the circumstances, and my thanks go to all staff who have worked to make it possible. It's wonderful that despite the extraordinary past year, and the difficult circumstances, we've been able to celebrate our students' achievements with their families and our colleagues."
Graduation highlights
Meet our 2021 Nursing graduates
Meet Erin James, a degree apprenticeship graduate
Meet Matthew Pullinger, a Financial Management graduate
Words of wisdom from former Portsmouth students