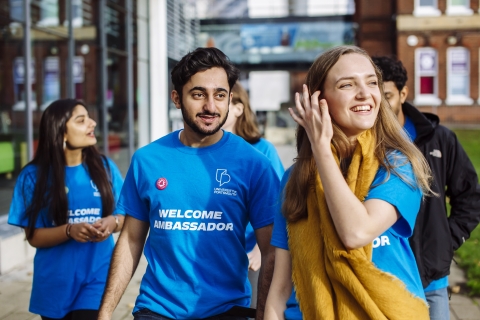 If all you've got is half an hour then complete a wellbeing survey to get personalised feedback and be in with a chance to win up to £100 in Amazon vouchers.

With just a bit more time you could complete some engaging online modules and then connect with others to get involved in welcome events in the new academic year. You'll build your CV and be up for loads more great prizes, including a top prize of £200!

Read on to find out more about three ways you can make a real contribution to fellow students, while getting recognition for your leadership and the chance of winning some great prizes.
1. Complete the Wellbeing in Difficult Times One Year On Survey and be in with a chance of winning £100
For just 20-30 minutes of your time, complete this anonymised survey and you'll be eligible for a prize draw for Amazon vouchers. There's a top prize of £100 and 2 x £75, 3 x £50, 4 x £25 vouchers up for grabs.
You'll answer mainly multiple choice questions reflecting on your experiences and coping strategies during this challenging year. When you submit your answers you'll and then get automatic personalised feedback about your scores with tips and suggestions for maintaining or improving your wellbeing. Completing the survey will contribute to research aiming to improve student and staff wellbeing and inclusion.
2. Take the Welcome Ambassador pledge
Share your experience, inspire other students, and earn your Welcome Ambassador badge. It takes about 2 hours, in your own time, to complete the Learning Well course and online Leadership 1 module. You'll then share an example of how you have overcome a challenge and pledge to be a role model in the way you uphold the Student Charter.
Take a look at the Welcome Ambassadors Facebook Page to see how fellow students have taken the pledge and email welcomeambassadors@port.ac.uk to find out more and sign up for the online course. Or just click on the links above to make a start.
Outgoing Students' Union Welfare Officer, Hayley Turner-McIntyre, says: "Being a Welcome Ambassador means being a role model in mental health and wellbeing, as well as being aware of the different challenges and barriers some students face. We can create an inclusive, supportive and welcoming environment for every University of Portsmouth student if everyone takes the Welcome Ambassador pledge."
3. Help shape a welcoming return to campus, get leadership recognition and win more prizes
By taking the pledge, you'll join a growing community of students helping to shape a more welcoming and inclusive learning community. And by helping to put on a warm welcome for new and returning students in the autumn you'll be up for loads more exclusive rewards and incentives, with more Amazon vouchers and an exclusive £200 prize only available to those who have taken the pledge.
Come along to Welcome Ambassador meet ups to find out more about how to get involved in the Countdown & Connect Challenge or email welcomeambassadors@port.ac.uk. Meet ups take place online on:
Wednesday 4 August, 2.15pm to 3.15pm
Wednesday 18 August, 2.15pm to 3.15pm
After the Countdown & Connect Challenge there'll be more ways to continue on your Student Leadership pathway, developing your leadership portfolio to gain HEAR accreditation, or recognition as a Speak UP Step UP Champion. It's also a great foundation for other leadership roles such as club committee members or course reps.
Hayley says, "It will look great on your CV, improve your resilience skills and you'll become part of an inclusive and welcoming community.
Just email welcomeambassadors@port.ac.uk to express interest, get more meetup dates and sign up. We can't wait to hear from you.