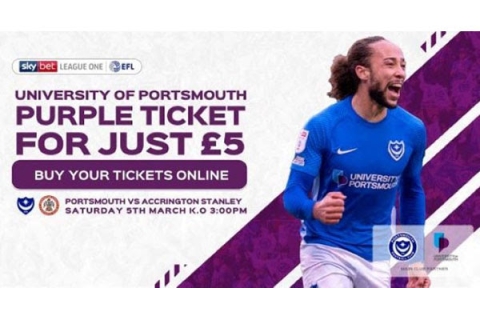 You can now get tickets for the upcoming match Pompey v Accrington Stanley on Saturday 5 March for just £5 (standard ticket price is £24).  These discounted "Purple Tickets" are a limited time offer (one discounted ticket per match) which applies to seats located in the Milton End only.
How to book a discounted ticket
As part of the University's partnership with Portsmouth Football Club, £5 Purple Tickets can be purchased online for the Accrington Stanley game using this link for the UoP ticket option.
If you do not already have an account you will need to register first before using this link. Once logged in, select your match seats – making sure to select seats located in the Milton End (areas MEM-MEN) – and the "University of Portsmouth" ticket option for £5 will appear. Please take your student/staff ID cards with you to show the match stewards.
Don't forget that you can also purchase Purple Tickets at £16 for all other remaining fixtures.
Our Partnership
As well as discounted tickets, our partnership with the football club also delivers joined-up research, work opportunities for University students, outreach activity to inspire young people to apply for university and the Portsmouth Football Club Scholarship.

Hear from alumnus Jake Saunders about how his filming work experience at the football club and his degree have secured him his dream job in football.