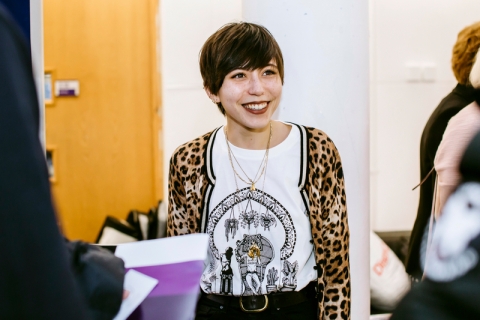 Great ideas need funding!
The Student StartUp Team, in collaboration with Santander Universities, is offering you the chance to apply for funding to develop your startup ideas.
Whether you need funding to help test an idea, do some market research or develop an existing startup/idea, this funding is for you.
This startup funding is a grant, meaning you don't pay the money back and is open to all current students and graduates (up to 5 years).
Application Deadline: Sunday 11 December 2022 11.59pm

Meet some of last years winners
Harry Landells, a c, is one of the Co-Founders of Bramley Park Camping, which offers camping pitches and luxury glamping accommodation in the heart of the beautiful East Sussex countryside. Harry successfully received funding twice from the StartUp Team, putting it towards improving the facilities and services offered.
"Both of the Santander funding awards had a huge impact on the business and were key to its success." 
Amelia Flemington-Clare (Millie), a UoP Digital Marketing graduate, is the founder of Human Beauty, an inclusive beauty brand. Millie successfully received funding towards product development and now has a range of products on the market. 
Thomas Lock, a final year Mechanical Engineering student, is the Founder of LockLightCo, a 3D design and printing company. Thomas not only sells 3D printed props, collectibles and gifts but also offers his design experience in 3D modelling and art to create custom products. Putting his funding towards the purchase of new equipment allowed him to diversify his product range - including a product that had never been seen before. 

Some top tips for applying:
Assume no one knows about your idea - explain it in a clear and concise way
Be creative - think about adding a video to explain your idea; add a link to your website or portfolio; if you have drawings of your concept, share them with us. Anything that helps us understand your idea is always welcomed. At the same time don't worry if you haven't got anything extra to add: just make sure your overview is really clear
Impact is key, so explain how the funding will help - how will it make a difference?
Be realistic with how much you're asking for. If you can provide a breakdown of what the money would be spent on, that's really helpful
Think about what makes you different - we get lots of applications so make yourself stand out
Any questions, ask the team. We can't review your application before you submit but we can answer questions you may have
If you would like to talk to a member of the team about your idea or application, book an  appointment on MyCareer by searching 'Enterprise Advice' on the Appointment tab or email studentstartup@port.ac.uk.
Take advantage of the Enterprise Clinic that runs every Wednesday 2.00pm-4.00pm and every Friday 9.30am-11.30am. You can book an appointment by searching 'Enterprise Advice' on the Appointment tab of MyCareer.
Application Deadline: Sunday 11 December 2022 11.59pm