This article explains the award-winning Welcome Ambassadors role and programme –what is a Welcome Ambassador, what the scheme offers all students, and how to become a Welcome Ambassador yourself.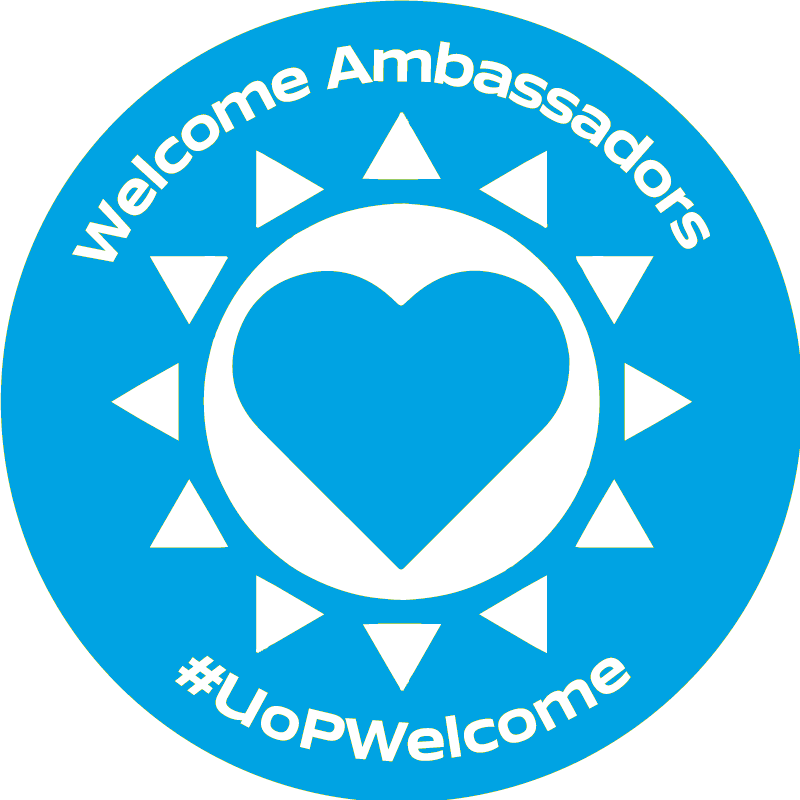 Being a Welcome Ambassador is about playing your part in strengthening the friendly, welcoming learning community that we are known for here at the University of Portsmouth. Look out for students wearing the Welcome Ambassador badge or T-shirt, or browse their inspiring and informative content on social media.
Taking the Welcome Ambassador pledge is a great way to connect with other students, to inspire others and to be inspired.
Follow us on Facebook and Instagram to hear from your fellow student Welcome Ambassadors, get all the updates, stay connected, and consider getting involved yourself: @welcome2uop
What to expect:
Informative and inspiring social media content on the Welcome Ambassador Facebook and Instagram pages. Welcome Ambassadors share their own experiences of university, their successes and what has helped them overcome challenges along the way - from settling in and making friends, to getting to grips with various learning challenges. You'll also find links to useful web pages and other interesting content.
Fellow students you can identify with giving the inside story about finding their own connections and belonging. Expect to find inspiration for tackling your own challenges, finding your niche and building your leadership.
Opportunities to connect with like-minded others whether it's fellow vegans, board-game enthusiasts, climate activists, or gym buddies… Post your interests on the Facebook wall and the friendly Welcome Ambassador community will aim to connect you with like-minded others.
Notifications about fun events and activities you might want to join in with or contribute to.
Welcome Ambassador updates and info about how you can take the pledge and join the team yourself (read on for the basics).
Take a look at the Welcome Ambassador Instagram account or Facebook Page and see what it's all about!!
Want to become a Welcome Ambassador?
Lead. Inspire. Connect. Join the Welcome Ambassadors team and make
a real difference to your student community.
The award-winning Welcome Ambassador programme is about being a leader and role model standing up for inclusivity and a welcoming campus for all. Welcome Ambassadors pledge to uphold the values of the University's Student Charter - Support, Community, Opportunity, Respect and Education.
This ambitious and exciting programme launched in 2018-19 for the first time, and gained national media attention when it was recommended by the Universities Minister as an example of good practice supporting student transitions. The scheme also won a Vice Chancellor's Award for Excellence.
This is your opportunity to make a contribution to shaping and improving the scheme, so that is even more successful in the years ahead.
To get your Welcome Ambassador badge you need to:
Any student can become a Welcome Ambassador - even if you are a new student yourself.
What next?
Once you have made the Welcome Ambassador pledge you can:
Collect your badge and course certificate
Start building your leadership portfolio, keeping a log of all the ways in which you demonstrate leadership.
Make new connections and widen your social network through engaging on social media and helping others make connections.
Post inspiring and informative content to share on the Welcome Ambassadors social media accounts.
Earn your Welcome Ambassador T-shirt by contributing to Welcome Ambassador activities such as Freshers' Fair and Welcome Events.
Continue to the intermediate and advanced Speak UP Step UP Leadership course modules
Apply your learning in other leadership or peer support roles such as UPSU Group or Sports Club committee member, Course Rep, Peer Assisted Learning supporter etc.
Have an edge when applying for paid University Ambassador roles.
Submit your portfolio to get HEAR accreditation.
Take the Speak UP Step UP pledge and earn your Speak UP Step UP Champion's hoodie and a leadership reference letter.
For further queries please email: welcomeambassadors@port.ac.uk