A four year subscription to Microsoft Office 365 enables students and staff to download and install the latest version of Microsoft Office for free. Click on the link below for more information

NVivo is software that supports qualitative and mixed methods research. It lets you collect, organize and analyze content from interviews, focus group discussions, surveys, audio - and now in NVivo 10 - social media and web pages.
Available to download from AppsAnywhere.

IBM SPSS Statistics is an integrated family of products that addresses the entire analytical process, from planning to data collection to analysis, reporting and deployment. With more than a dozen fully integrated modules to choose from, you can find the specialized capabilities you need to increase revenue, outperform competitors, conduct research and make better decisions.
Available to download from AppsAnywhere.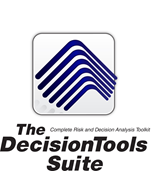 The DecisionTools Suite is an integrated set of programs for risk analysis and decision making under uncertainty that runs in Microsoft Excel. The DecisionTools Suite includes @RISK for Monte Carlo simulation, PrecisionTree for decision trees, and TopRank for "what if" sensitivity analysis. In addition, the DecisionTools Suite comes with StatTools for statistical analysis and forecasting, NeuralTools for predictive neural networks, and Evolver and RISKOptimizer for optimization. All programs work together better than ever before, and all integrate completely with Microsoft Excel for ease of use and maximum flexibility.
Available to download from AppsAnywhere.
---