This article contains information for University staff only.
Please note the panel in the room may differ slightly from one shown.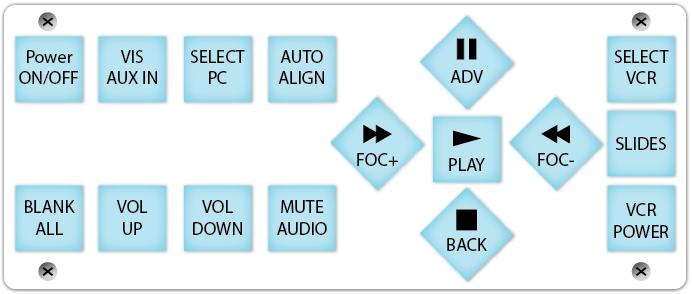 Instructions for use
To use the PC
[Power]
Press the [Power] button on the control panel to switch the data projector on. Please wait for 20 seconds before selecting a source.
Switch PC on
 
Login
Login with network - login using your University computer account details as normal to use the University network.
OR
Login without network - to use the PC without the university network, check the Workstation only box on the login screen and log in with username = standalone and leave the password field blank.
[Computer]
Press the [Computer] button on the control panel to select the PC as the source to be displayed.
[PC]
Press [PC] on the touch panel.
To use the visualiser
| | |
| --- | --- |
| [Power] | Press the [Power] button on the control panel to switch the data projector on. Please wait for 20 seconds before selecting a source. |
| Switch on visualiser | Press the [Standby] button on the visualiser panel to switch it on. |
| [Visualiser] | Press [Visualiser] on the touch panel to select the visualiser as the source to be displayed. |
To use a laptop
| | |
| --- | --- |
| [Power] | Press the [Power] button on the control panel to switch the data projector on. Please wait for 20 seconds before selecting a source. |
| Connect laptop | Plug the available VGA lead into the back of the laptop. |
| [Computer] | Press the [Computer] button on the control panel to select the PC as the source to be displayed. |
| [Laptop] | Press [Laptop] on the touch panel. |
---