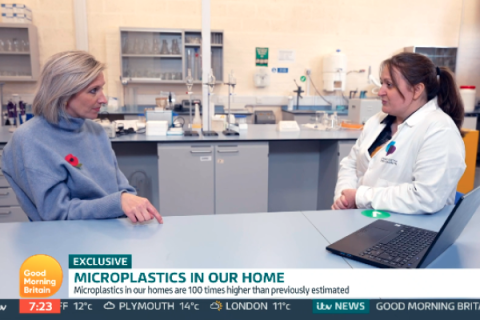 Last week, research from the University of Portsmouth was featured in three major national TV programmes, sharing our work with an audience of millions.
Microplastics in our homes
On Monday (8 Nov), a research project about the amount of microplastics in our homes, led by Dr Fay Couceiro, was the focus of a 10-minute film and live discussion on Good Morning Britain. The film included Fay being interviewed about her research and conducting the microplastic survey in the GMB presenter's home and analysis of the data in her lab in Portsmouth. GMB is ITV's national flagship breakfast show and has an audience of around 500,000.
The research was also promoted to other media and the story appeared on the front page of The Daily Mail with a full page article inside. The following day The Times ran a full page article and there has been subsequent global media coverage for the findings, with a potential reach of almost 800m people.
Oyster restoration research
On Tuesday night (9 Nov), the oyster restoration research, led by Dr Jo Preston, was featured on BBC's The One Show as part of their COP26 series (you can watch at 8m 30s).
The film included interviews with Dr Preston and film of the restoration project deploying the first oysters into Langstone Harbour. The One Show has a regular audience of 4m people.