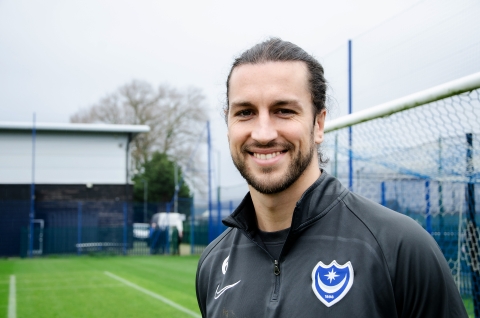 The magazine highlights some of the joint community projects which are making a difference to people's lives
A new University of Portsmouth and Portsmouth Football Club magazine has launched called 'Together We Achieve', highlighting some of the joint community projects making a difference to people's lives. 
In the magazine's introduction, University Vice-Chancellor Graham Galbraith and Portsmouth FC Chief Executive Officer Mark Catlin said: "Community spirit has never been more important – the message of our partnership with Portsmouth Football Club,'Together We Achieve,' never more apt.
"The unique connection that Portsmouth F.C. has with its community is fundamental to our partnership as Main Club Partner. Our work together to inspire and support young people to achieve is at the heart of our collaboration and we both want to play a key role in the economic, educational and cultural life of our city. We are proud to be part of Portsmouth.
"In this magazine you can read about some of the highlights so far of our three-year partnership. You'll also hear from players about the role university has played in their lives  and perhaps even find food for thought on how you can get involved in efforts to make our world a better place."
Articles in the magazine include: 
Community News - Pompey players delivering food and medicine to vulnerable and self-isolating people in the city
Combining professional sport and study - interview with Pompey footballer and teacher Jade Widdows
Defending Pompey and the planet - interview with former Pompey defender and committed environmentalist Christian Burgess
Tackling plastic together
My placement year at Portsmouth FC - interview with student Dan Coleman on his work placement year
Football and working on the front line - interview with Pompey player and frontline nurse Rosie McDonnell
Academy players get dental check-ups 
The magazine can be read online and printed copies will be included in local newspapers Chichester Observer on 30 July and the Portsmouth News and Isle of Wight County Press on 31 July.