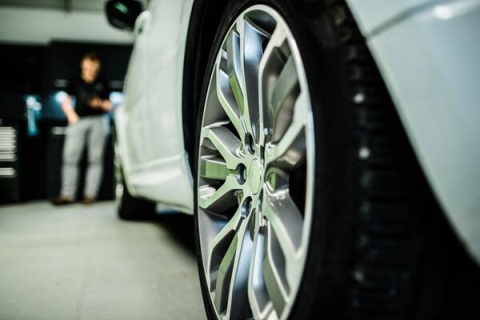 10 Graphic Design students recently took part in the Dyson Creative Challenge 2022.
 
The students - from both undergraduate and Masters courses - were given a challenging brief that involved developing awareness strategies for James Dyson Award winners The Tyre Collective.
 
The Tyre Collective are developing ways in which to capture, reduce and reuse microplastic pollution  caused by tyre wear from domestic and commercial vehicles, which can be up to one thousand times more polluting than exhaust fumes.
 
The students were briefed by Dyson creatives Lola Martin and Alisson Porta-Fernandez (herself a University of Portsmouth Graphic Design alumna) and also had the opportunity to receive input and feedback on developing their ideas and solutions.
 
This was an intensive, single-week project with the students presenting back to Dyson and The Tyre Collective representatives at the end of the week. Dyson Creative Director Chris Roberts was in attendance when two students were chosen as winners and presented with very smart Dyson products as prizes.
 
The winners were Guruprasad Kalaivendan (MA Graphic Design) and Gabriel Bernard (BA (Hons) Graphic Design).
 
The Tyre Collective called in via Zoom to thank the students for their efforts.

Dr Michael Harkins, Course Leader for MA Graphic Design, said: "The Dyson Creative Challenge was something I helped set up a few years ago with Chris Roberts, Dyson UK's Creative Director for Brand.
 
"This is the fourth year we have run the challenge and we are one of only four institutions nation-wide that Dyson runs this initiative with. The students were given a very challenging brief and had only one week to complete it. The competition is usually run in conjunction with a James Dyson Award winning innovator or company and this year it was The Tyre Collective.
 
"There was lots of great work produced and it was amazing to see what the students were able to achieve within such a short time-frame.
 
"Over the past few years, we have had four of our students secure Graphic Design graduate roles with Dyson, in part due to this scheme".