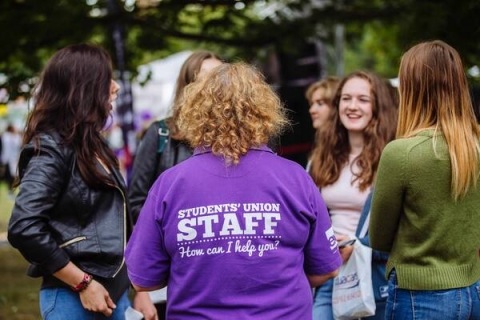 Students voted throughout last week to choose five new Elected Officers to lead the Students' Union and work on behalf of students in 2022/23.
Five students are elected each year by the student community in order to ensure the Union's strategic aims meet the needs of Portsmouth students.
The elections saw an encouraging turnout – with 3,227 students casting their vote. A highlight of the campaign week was the Elections Fayre held at the Union building on Wednesday 9 March. Voters were invited to a meet and greet with the candidates and grab a doughnut and some pizza – the Union reckons that over 500 slices of pizza were handed out!
The Union's new Elected Officer team will take office from 1 July 2022, working to represent all students and make a positive impact on the student experience.
Democracy and Campaigns Officer – Dom Owen (re-elected)
The Role: Focuses on UPSU's democratic and campaigning functions, including overseeing of UPSU Democracy and Governance, leading on University Actioning Body, Have Your Say and the Student Networks, as well as being a leading campaigner and activist with local community partnership links.
Key manifesto points:
Bring back our bar and start a night-time safety bus
Improve study abroad courses and increase communications from the Union
Raise student living standards and fight new student loan changes
Learning Experience Officer – Jade Underwood (re-elected)
The Role: Looks after key learning experience areas such as liaising with university academic and external partners, collecting and acting on student feedback, working on co-creation with the University and leading on academic campaigns.
Key manifesto points:
Increase subject-level extra-curricular opportunities and establish student-industry networks
Assessments: involve industry experts, refine group projects, expand career development modules
Ensure there's a volunteer student representative from minority groups at University meetings
Development Officer – Temidayo Dosunmu
The Role: Focuses on key developmental areas, such as student groups, volunteering and training opportunities and some sports remit.
Key manifesto points:
Food option variety in the Library and the Student Union building
UPSU societies rebranding
Development funding
Academic Representation Officer – Ayoola Michael Johnson
The Role: Focuses on key academic representation areas, strengthening University partner relations and leading on academic campaigns.
Key manifesto points:
Introduce a Peer Assisted Learning (PAL) scheme
Increase awareness of support services available to students
Innovate assessment feedback measures
Welfare Officer – Natasha Layley (re-elected)
The Role: Focuses on key student welfare issues, like student welfare and wellbeing, mental health and university and external welfare liaison.
Key manifesto points:
Reduction of sexual violence: a university-wide approach and training including bystander and consent training
Accessibility EDI in policies and campaigns across UPSU and UoP for all, plus UoP sensory rooms
Safer experience in the night-time economy and introduction of a University or UPSU taxi