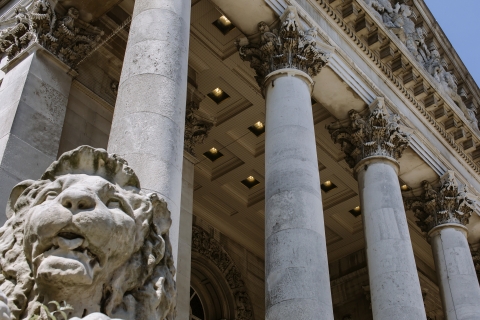 The space will be used as a temporary teaching space in a creative response to the pandemic
An exciting new partnership will see Portsmouth Guildhall temporarily used as a teaching space by the University of Portsmouth in response to the coronavirus pandemic. 
The venue's 2,000 seat auditorium and suite of ten smaller rooms, which would normally host concerts and conferences, will be repurposed for Covid-secure face to face teaching from the end of September until December.
The mutually beneficial agreement between the two organisations comes following an extended period of closure for the landmark building. Its indoor space and proximity to campus makes it a great venue for additional teaching space for students. 
Covid-secure measures such as one-way systems, face coverings, social distancing and hand sanitiser stations will be used to make the venue as safe as possible for students and staff. 
The University's Chief Operating Officer and Deputy Vice-Chancellor, Bernie Topham, said: "This is an exciting and creative solution to challenging circumstances, giving us extra space to host safe and engaging face to face teaching which we know is valued by our students. We've worked collaboratively with the Guildhall for many years for University events such as graduation and open days, and this further cements our relationship. We are also part of the local community and it's important for us to support city venues like the Guildhall while meeting our students' needs." 
Chief Executive Officer for The Guildhall Trust (the charity which runs the Guildhall), Andy Grays, said: "This contract will go some way to mitigating the significant losses we are forecasting for this financial year and enable us to bring back some of our highly-skilled team from furlough. Portsmouth Guildhall is a very flexible space, as shown in the range of events we would normally host, and we are delighted that an alternative use has been found in these unprecedented times that benefits not just us but the whole city. We enjoy a long-standing relationship with University of Portsmouth as host to their graduations and they are an Event Partner in our annual Comic Con and we look forward to welcoming their students".
The University of Portsmouth is worth £1.1 billion to the British economy and brings £476 million to the city, an independent assessment has shown. The University is the fourth largest employer in Portsmouth and supports nearly 8% of all jobs in the city.
Portsmouth Guildhall annually attracts half a million users with an estimated economic impact of £7m. The Guildhall Trust charity invests in the local creative economy supporting education, artist development and local not-for-profit organisations.