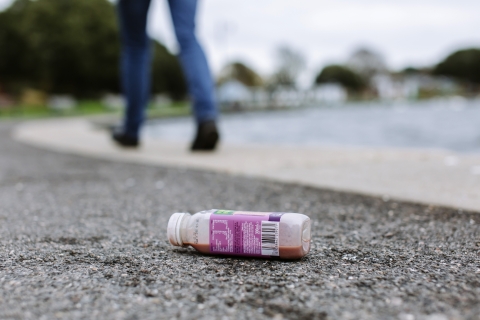 The University is hosting two exciting events to kick start the Portsmouth Climate Festival this week.
The first is an international event with guest speakers from around the world and the second is a hands-on day out.
Plastics, climate and the art of making change
Friday 22 October 10.00am - 12.00pm BST online via Zoom 
As COP26 fast approaches, this is a critical time to highlight how the lifecycle of plastics is a significant environmental pollutant and driver for climate change, and that commitments to 'turning off the plastic tap' can contribute to reaching all-important climate targets.  University researchers and collaborators from around the world will discuss the links between plastic waste and climate and give examples from the STEPP (Sustainable Transitions to End Plastic Pollution) project to show how creative methods are being used to tackle the impact of plastic waste in the Global South.
Panel includes:
Join the world's first city-wide plastic survey
Saturday 23 October, all day - at the Institute of Marine Sciences in Eastney
Join the team at Institute of Marine Sciences in Eastney for the launch of the MAPP project, the world's first city wide plastic survey. The University has teamed up with Jetsam Tech Ltd and is looking for members of our community to help map plastic pollution in Portsmouth using the Jetsam app.
It's a great day out for all, where you can learn about this exciting project and why we need your help. You will also have the opportunity to witness the research into plastic pollution being done by the university. There will be demonstrations, tours, talks and a chance to meet the team and our partners.
Activities include:
Tours of the IMS facilities including the outdoor research tanks, indoor research tanks, research lab and a rooftop view of Langstone Harbour (weather permitting)
Participation in practical demonstrations, sampling water from Langstone harbour see evidence of microplastic pollution under the microscope.
Join two short "lightning talks" with University researchers:

Talk 1) Keiron Roberts will explain how plastic litter affects our lives, discussing the findings of a recent plastic use survey in Portsmouth and the impact of facemask littering.
Talk 2) Jo Preston will explain the impacts of microplastics, discussing her recent work in the south of England researching impacts of microplastics on the food chain and public health.

Talk to our researchers and partners. See examples of microplastics in fish, a demonstration of oyster filter-feeding, and hear about the exciting work being conducted locally
Join Jetsam's outdoor activities where you will be able to try out newly introduced features to the Jetsam App which support the MAPP Project and survey the Eastney point area.
Sign up for the morning or afternoon slot on Eventbrite: