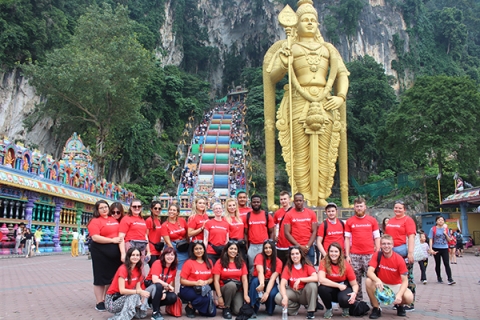 Students starting up businesses, facing financial hardship, and more, will benefit from a renewed partnership.
University of Portsmouth has signed a new three year agreement with Santander, through Santander Universities, confirming a continued commitment to helping students and new alumni access opportunities for enriched learning, employability and entrepreneurship.
Over the past three years, Santander Universities has provided over £120,000 of funding to support 23 schemes across the University including:
The new agreement, signed on Wednesday 28 April, provides £147,000 of support for Portsmouth students over the next three years. This will include funding for Student Startup grants, mobility awards for experiential learning overseas, and scholarships for black students facing financial hardship.
A renewed partnership
The new agreement, signed on Wednesday 28 April, provides £147,000 of support for Portsmouth students over the next three years. This will include funding for Student Startup grants, mobility awards for experiential learning overseas, and scholarships for black students facing financial hardship.
Professor Graham Galbraith, Vice-Chancellor of the University of Portsmouth said: "Whether it's help with setting up a business, or gaining skills for the jobs market - we're proud to offer these opportunities at University of Portsmouth. This kind of rounded education experience helps set our graduates up for the best start in life. Our thanks go to Santander Universities, whose generosity means we'll be able continue to help our students grow and thrive over the coming years."
Matt Hutnell, Director, Santander Universities UK, commented: "Santander is committed to supporting higher education as well as local communities across the UK. We're proud to continue our partnership with the University of Portsmouth for a further three years to ensure we can work together in providing even more opportunities which will benefit both students and the local community."
How the partnership has helped students
Ben Margett: Setting up a business to help SMEs
Ben is studying Television and Broadcasting at the University. In his second year, his focus was on obtaining a placement, ideally in marketing as a content creator - though sadly, the Covid pandemic meant it was impossible to find something suitable. 
The University's StartUp team suggested he explore other opportunities, such as developing his own business. Ben's plan was to offer film-making and photography to SMEs in his local community in Derby. Small businesses like cafes and boutique fashion brands had been ravaged by the pandemic and he hoped that his marketing services could be of help. 
Ben's vision was to provide creativity at an affordable price and he is very proud and passionate about the part that his business plays in building the community post-pandemic. He feels that he is offering an important service, whilst earning money and boosting his CV.
Ben did not end up with the client list he expected, but was surprised and delighted by the clients he did secure. One, an old contact from college, is now a presenter and indie musician and asked him to make a music video. For another project, he is working with an author on an audiobook about Derby County Football Club.
Santander Universities UK funding
Last year Ben received funding which enabled him to buy essential lighting for his film shoots and protective equipment for photography gear for his business. These have been invaluable in helping him deliver a professional service. He is currently applying for a new camera through the latest funding round.
Alya Harding: Helping young black students overcome barriers
Alya is in her final year studying International Development at the University, and her ultimate aim is to work in Africa, supporting people from her father's nation of Sierra Leone and across Africa.
She had secured a placement year in Uganda but when Covid hit last year she had to return home. When she arrived back in the UK, there was a lockdown and, at the same time, the Black Lives Matter debate erupted. 
Alya realised that she was lucky to have secured a placement year abroad. Many of her black friends and peers simply didn't have the financial capacity and she wanted to find a way to help. Understanding the power of networks, Alya realised that the contacts she had made during her placement could lead to placements for other young black people. 
But Alya didn't want to speak on behalf of her community - she wanted to know how they felt and respond directly to those needs. She set up a survey to ask about barriers young black people face when applying for placements.
The responses showed divergent barriers; from financial, to the feeling of imposter syndrome, to not having a level playing field to access opportunities. Even when those who responded had secured placements, they were nervous about potential micro and macro aggression in the workplace, a lack of relevant skills or cultural references. 
She set up Valued Minds - a support network for personal and professional development of BME university students - to explore these barriers further. To date, Alya has issued four further surveys and launched one fundraising campaign. She recognises the need for data that provides key insights into this area and plans to market the findings of the surveys to education providers, governmental agencies, and businesses who wish to improve their diversity.
Santander Universities UK funding
Initially Alya used the funding she received from Santander to create an event to raise money to provide overseas placements for young black students. She secured speakers from global businesses to give inspirational talks that would boost and prepare her student audience and 17 funders who would pay to run stalls at the event. 
Sadly, Covid managed to scupper this event, but Alya instead hosted four online webinars for students addressing the topics highlighted in her first survey: mentorship, mental health, and finances. This year she was nominated as Young European of the Year 2021 and made it to the final five.