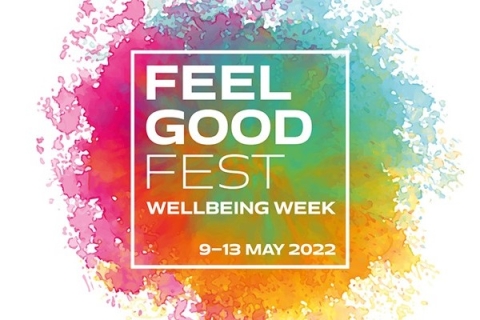 This year's Feel Good Fest will take place Monday 9 to Friday 13 May at various locations around campus.

Coinciding with Mental Health Awareness Week, staff and students are invited to come together to participate in fun, free activities which support and encourage us all to celebrate and maintain our health and wellbeing.

Drop by each afternoon from 12.00pm - 2.00pm to join in with all the fun and relaxing activities on offer, including a variety of crafts, performances and entertainment from student societies, free food tasting, a photography workshop, activity taster sessions, giveaways and raffles.
Programme of Events
TAKE NOTICE – Mindful photography workshop – Monday 9 May – 12.00pm – 2.00pm – Eldon Building Courtyard
KEEP LEARNING – Learn about the Library's resources and get creative making your very own affirmation journal – Tuesday 10 May – 12.00pm – 2.00pm – Library Atrium
CONNECT – Food tasting, craft workshops, student society performances, wellbeing cafe and more – Wednesday 11 May – 12.00pm – 2.00pm – Students' Union Third Space
BE ACTIVE – Interactive activities for all levels: get moving! – Thursday 12 May – 12.00pm – 2.00pm – St. Paul's Gym
GIVE – Giving and receiving advice from student support services such as the Students' Union, Careers & Employability, Student Finance and Wellbeing – Friday 13 May – 12.00pm – 2.00pm – Students' Union Waterhole
Connect with others, get creative, learn something new and boost your wellbeing at Feel Good Fest 2022.
Help improve mental health services in the city with this short survey
As part of Portsmouth City Council's Improving Mental Health project, Health and Care Portsmouth is keen to hear the experiences of 16-25-year-olds who've recently accessed - or tried to access - mental health support in Portsmouth.  The survey is open until Tuesday 31 May and takes less than five minutes to complete

Take the survey now 

Your feedback will help to create new ways of working based on the experience of people in our community and their needs.

They're especially keen to hear from students who:
Have tried accessing adult mental health services but didn't meet the criteria
Are accessing mental health support for the first time as an adult
Have recently moved from Children and Adolescent Mental Health services (CAMHS) to an adult mental health service
You can choose to share their experience anonymously or share their details and continue to help improve mental health support in Portsmouth.