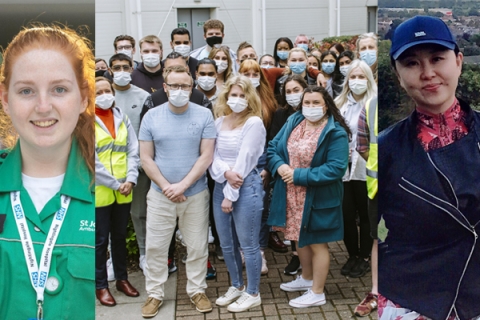 Eight awards and 16 commendations have been granted in recognition of staff and students this past year
The extraordinary efforts made by students and staff to help the University of Portsmouth and the wider community stay safe, educated and connected during the Covid-19 pandemic were recognised at the Vice-Chancellor's Awards for Excellence.  
Eight awards and 16 commendations have been granted in recognition of staff and students who have made exceptional contributions during the past year including:
student Amy Hughes who volunteered over 1,300 hours at London's Nightingale Hospital, at St James' Vaccination Centre in Portsmouth and as an emergency ambulance crew member with St John Ambulance
the University's Covid-19 testing team who tested over 32,000 staff and students through the University's own testing site to keep students, staff and the wider community as safe as possible
staff member Wendy Wang who made arrangements with a local restaurant to ensure no self-isolating student went without a hot meal during the first weekend of international arrivals in September 2020
staff members from the BAME conference team who organised an exceptional conference to over 180 Black, Asian and Minority Ethnic staff, alumni and allies following the University's pledge to make a step change in efforts to end racism
the Pre-sessional English team who helped us to meet our international student recruitment targets by adapting how students are assessed for entry onto University courses and re-developing the programme as a distance learning course in response to difficulties caused by the pandemic
University Vice-Chancellor, Professor Graham Galbraith, said: "I'm very proud of our students and staff who have accomplished some extraordinary things during an extremely difficult year. The challenges created by Covid-19 were unparalleled. Yet it's quite amazing what has been achieved by students and staff who have gone the extra mile to keep each other safe, to deliver high quality learning through a blend of online and face-to-face teaching, and connect our diverse and inclusive community. I'm grateful to everyone who has made such exceptional contributions. They deserve every recognition."  
A celebration event on campus is planned to take place at 3.00pm on Wednesday 15 September, which will also be live streamed for friends and family to watch and celebrate the achievements of award and commendation winners. Further details will be shared nearer the time.
Award winners
Amy Hughes
Photography BA (Hons) student
Nominator summary: Amy volunteered over 1,300 hours in 2020 in the front-line of the Covid response. This included a month supporting patients in London's Nightingale Hospital in the first wave of the pandemic. Following this she volunteered in hospital A&E departments last summer doing four 12-hour shifts a week, alongside completing training for her Emergency Ambulance Crew qualification with St John Ambulance when she responded to 999 calls in London, Isle of Wight, Bristol and Reading. By mid-February she had already volunteered over 300 hours in 2021 and aims to complete over 1,500 hours in total this year. This has been based at St James' Vaccination Centre in Portsmouth, where she has been doing three 12-hour shifts each week as a Unit Manager of the University of Portsmouth St John Ambulance Unit. In this role she manages around 20 volunteers, helping them with their training as well as organising and planning events and ensuring volunteer welfare.
Covid-19 Testing Team
Nominator summary: When the Covid-19 pandemic hit it quickly became clear that testing would be a key tool in reopening our campus and keeping our staff, students and the wider community as safe as possible. The team has played a vital role in the safe reopening of campus, carrying out over 32,000 tests to provide accurate infection data and in combating the narrative that university students were a primary cause for Covid-19 spread.
Wendy Wang - Food packages for isolating students
Nominator summary: Wendy showed true leadership and determination in implementing a process for welfare packages for students. An estimated 500 international students were due to arrive into halls and the community on the weekend of 12-13 September 2020. These students were required (due to Covid) to immediately quarantine so had no chance to shop in advance. Wendy arranged hot food from a local restaurant and became the sole point of contact for those managing the phones that weekend. Wendy went to great lengths across that entire period to ensure no student went without a suitably culturally appropriate meal. 
BAME conference team
Nominator summary: Following the murder of George Floyd and the University's pledge last June to make a step change in efforts to end racism, a conference for our Black, Asian and Minority Ethnic staff and alumni was envisioned by Marcella Kirby. Sharing her vision with Senior Leaders, funding was secured to enable it to happen. With the dedicated support of colleagues volunteering from our community, the team came together and delivered a truly exceptional conference to over 180 Black, Asian and Minority Ethinic staff, alumni and allies including keynote speakers Karen Blackett OBE, University of Portsmouth Chancellor, alumna, WPP UK Country Manager and the Government's Race Equality Business Champion; Asif Sadiq MBE, Global Head of Diversity and Inclusion at Adidas; and Nira Chamberlain PhD, alumnus and President of the Institute of Mathematics and its Applications.
Samuel Robson - STOP COVID-19
Nominator summary: In collaboration with university and hospital research staff, Sam Robson established a next-generation sequencing centre for Covid-19. Using university equipment, hospital labs and a lot of good will, testing began on all SARS-CoV-2 positive samples collected at Queen Alexandra Hospital in Portsmouth to identify variants and transmission chains in the local area. Over 15,000 genomes have been processed, with samples being sent from all over the South East of England. Sam has worked tirelessly to ensure rapid turnaround of results and provided the critical information required by infection control teams at local hospitals, as well as providing essential data on variants which has been used by policy makers to inform transmission control decisions.   
The Study Buddy Club project
Photos: (from left) Jodie Pinnell, Dr Catherine Carroll-Meehan and Karolina Szczepaniak from the Study Buddy club team
Nominator summary: The Study Buddy Club was established during the third lockdown in February 2021 to support University of Portsmouth staff who had home education responsibilities during school closures. The project was staffed by University students who provided an online club for children between the ages of 7 and 11 to help staff with homeschooling. The club provided teaching placement opportunities for students who would have normally been based in schools. It also gave the children an opportunity to mix with other children in an online environment. Staff members whose children attended the online club provided very positive feedback about their children's experience. One child said: "I wish Study Buddy Club lasted forever!" 
ICG Covid Response Team
Photos: Some members of the team (from top left) Coleman Krawczyk, Andrew Lundgren, Chris Pattison, Jascha Schewtschenko, Michael Gnacik and Max Foxley- Marrable
Nominator summary: In response to the Covid-19 pandemic, the team at the Institute of Cosmology and Gravitation (ICG) leveraged their expertise in statistics, computing, and data analysis, to help the university. The team built a tailor-made data management system to critically underpin our testing system. The team also crucially enabled new research efforts to better understand the spread of the virus, for instance through detailed studies of coughs and sneezes in clinical environments. Their rapid response, often under extreme time pressure, and keen engagement to solve other groups' technical challenges is an outstanding model for how well cross-departmental collaborations can work to address major challenges, especially during a public emergency.  
Pre-Sessional English (PSE) team
Photos: Helen Ringrow and Andy McColl-McWha (right)
Nominator summary: The PSE team are responsible for the Pre-Sessional English courses for international students wishing to develop their English Language skills to meet their degree's entry criteria. In March 2020, responding to the global pandemic and the potential impact on international students planning to undertake their studies in the UK, the team developed an institutional test to assess students English Language skills for entry onto university courses due to the closure of English Language test centres which would in normal circumstances determine students' eligibility. The team also completely redeveloped the campus-based Pre-Sessional English programme into a pure distance learning course in just 10 weeks, using a range of highly innovative technologies which was new to the institution. If they had not done so we would not have met our international student recruitment targets.  
Commendation winners
MyPort student service advisors and administrators for providing an exceptional service in running the new Coronavirus 'Infoline' service to process enquiries from students, parents and guardians around the Covid-19 pandemic, and other central university telephone numbers, including identifying and supporting self-isolating students as part of the Student Welfare Call.
Exploring the history behind decolonising the curriculum team for developing induction workshops on Equality, Discrimination and the History of Race in Britain, and for delivering cross-university workshops to examine how attention to historical research can help other disciplines frame responses to the challenges of curriculum decolonisation. 
Science and Health Online Delivery Support Team for volunteering to be part of a non-expert team to help with the move to online teaching and learning in response to the Covid-19 restrictions.
Library study space booking team for developing an initiative to successfully and fairly manage the reduced capacity necessitated by social distancing and to avoid long queues at peak periods which would have impacted staff.
Library click and collect service for the significant service enhancement of developing the click and collect service that allowed students to request books in the Library, with staff making them available for collection outside of the turnstiles.
Phil Jewell for SIGHT Project management for engaging nearly 150 member companies in the SIGHT programme, coordinating support and innovation for them, aligned to our mission to give back to the community as a civic university.
Staff team in the School of Health and Care Professions during Covid for the continued delivery by academic and technical staff of high quality education during the pandemic to ensure the availability of high quality health and social care professionals both locally and nationally
Placement students in the School of Health and Care Professions formed an essential part of the NHS workforce and have contributed to the national work on Covid-19.
The Elected Officer Team at the Students' Union for their tireless work to represent the interests of Portsmouth students in the very specific circumstances of 2020/21, and to drive forward campaigns and activities in less than ideal circumstances.
BAME Ambassadors for developing and running student-led campaigns to help tackle the BAME awarding gap at the University of Portsmouth.
The Forensic Technician and Online Course Developer team for the innovative creation of digital learning objects for online delivery to our student communities, including the use of interactive 360-degree images, practical crime scene photography, video demonstrations and other digital objects.
The Student Engagement Dashboard team for enabling staff to identify students who may be falling behind and at risk of failure, through monitoring engagement, and facilitating student support.
Rik May for supporting students to seek out wellbeing advice, delivering training to volunteers and actively promoting a positive culture around mental health, which has had a positive impact for our student sports clubs.
The Virtual Year Abroad team for giving students the opportunity to complete a Virtual Year Abroad, which included online language tuition, professional communication and conversation, as well as virtual exchanges and virtual placements.
The Students' Union Advice Service Peer Advisors for keeping the service running effectively through the pandemic, providing ideas for how to enhance it, and delivering an excellent service to our students.
BSc (Hons) Cyber Security And Forensic Computing Student Alan Ross - for volunteering  to support the running of the Government's Cyber 9/12 Strategy Challenge, including registering all participants, preparing all the online sessions, hosting keynote speakers and acting as an MC on the day.