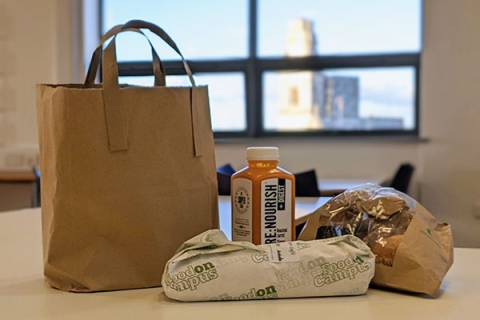 The University of Portsmouth catering team has signed up to two new initiatives, building on existing work to reduce their environmental impact.
Saving surplus food with Too Good to Go
Students, staff and the public can now pick up discounted food from the University catering outlets through the Too Good To Go app.
Too Good to Go helps businesses minimise food that might otherwise be wasted because it hasn't sold in time. The app lets people buy and collect this food, at a great price, so it gets eaten instead of thrown away. 
How to grab discounted food
Download the Too Good to Go on the App Store or Google Play
Keep an eye out for restaurants and shops, like the University Learning Centre cafe, listing food that's up for grabs
Reserve and pay for your 'magic bag'
Arrive at the venue at the set time, show your order on your app, and collect your bag
Enjoy your cheap food, knowing you've saved it from being thrown away!
From eliminating single-use plastics, to local and seasonal produce — here's how we're helping the planet by promoting sustainable diets and reducing waste.
Monitoring and tackling food waste
As part of a new plan to reduce food waste, our Catering Team has trained to become Guardians of Grub, reducing food waste and redistributing surplus food.
The initiative is run by WRAP, one of the globe's leading sustainability charities that support food businesses and organisations.  
The UK Hospitality and Food Services Sector throws away over 1,100,000 tonnes of food each year of which 75% is avoidable. Reducing food waste is regarded as the most impactful and simple action against Climate Change. 
Members of the Catering team have trained to monitor food waste, including:  
Preparation waste such as vegetable peelings 
Spoilage such as out of date or overcooked food
Plate waste, food leftover by the diner  
By measuring the waste, action can then be taken to make reductions. The data is recorded monthly and shared with WRAP to build up an international picture of the problem.
Nick Leach, Head of Catering Services said "The staff have really embraced becoming Guardians of Grub. Our customers are very conscious about food waste. Even though our food waste across the University is low at 3%, the national average is around 15%, it is important that we continue to take action."