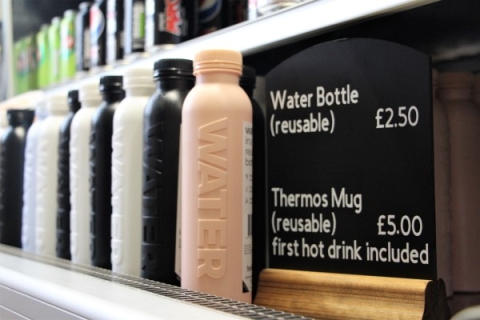 As part of the University's work to be a showcase for a sustainable plastic future, all single-use plastic is being eliminated from products for sale at campus cafes.
Among the most recent changes are:
Coffee cup lid alternatives
Bringing your own reusable cup will save you 20p on your hot drinks, which is the most eco-friendly and cheapest option.
However if you forget your reusable coffee cup, and need a single-use cup, you can purchase a new type of cup lid for 5p.
These are 100% plastic free, and are plant-based from renewable materials.
New plastic-free water bottles
If you need to pick up some drinking water on the go, University cafes are now stocking bottleup reusable water bottles made from renewable sugar cane, and filled with English spring water.
The bottles are dishwasher safe and can be used thousands of times.
Sustainable catering
The team has been working for years to become one of the most sustainable places to eat and drink in the city, including many measures to reduce plastic:
‌Using glass milk bottles to save nearly 13,000 milk sachets a year
Using bamboo cutlery to save 10,000 and 15,000 plastic cutlery a year
Using eco-friendly corn starch cups to save nearly 60,000 plastic cups a year
Removal of plastic straws
Find out more about the cafes on campus, and the ways in which they're an eco-friendly and affordable option.

Read more about the University's research into the impact of plastics through the Revolution Plastics initiative.