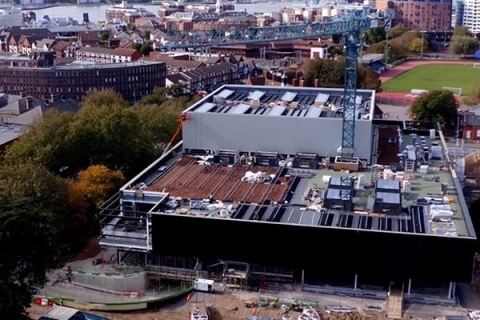 A new perspective reveals why it's one of the UK's most sustainable sports centres
Our new Ravelin Sports Centre will open in 2022 for you. Check out this drone view of one of the UK's most sustainable sports centres under construction.
We have installed the green roof; soil has been laid and sown with grass and wildflower seed, 684 photovoltaic panels have been fitted.  Landscaping works are underway to create a wildflower amphitheatre.
A drone's eye view of the Ravelin Sports Centre roof
By maximising sustainable materials, creating renewable energy and contributing to the biodiversity of the area, Ravelin Sports Centre has been designed to the highest sustainability credentials for sports centres in the UK. 
Work will now focus internally to complete the planned facilities that include a 25m 8 lane swimming pool, 175 station fitness suite, climbing wall, ski simulator, café and 8 court sports hall.
Ravelin Sports Centre is on track to open in 2022 for students, staff and local residents. 
Follow our weekly updates on the University's Developing our Campus page on LinkedIn.