Portsmouth Heritage Week: Valuing Heritage
Celebrate Heritage Week 2022 with our series of talks showcasing the latest in heritage research from the University of Portsmouth
Theme: Valuing Heritage
In today's talk, Dr Tarek Teba will explore the cultural and economic valuation of heritage.
Historic structures bear valuable knowledge of place, being authentic as their architecture is frozen, but their tangible and intangible significance is detached from contemporary debates.
Programme
12:00 - Light Buffet Lunch
12:30 - Talk on Valuing Heritage by Dr Tarek Teba
13:30 - Q& A with the speaker
Date: Monday 12 September
Time: 12:00 - 14:00
Location: Room 1.09, Eldon Building, West Entrance via Middle Street
If you have any questions about this event, please contact ris@port.ac.uk
About the Speaker
Dr Tarek Teba is a Senior Lecturer in the School of Architecture.
Tarek's research interests focus on setting a conservation framework to enhance the understanding of historic structures, landscape and ruins and their cultural values, contributing to their preservation and presentation.
Tarek has a particular interest in using a virtual-modelling approach that supports engagement with academics, communities, conservation specialists and professional bodies.
UoP HERITAGE WEEK 2022
Heritage Week 2022 is an opportunity for academics and the wider public to discover the latest in heritage research from the University of Portsmouth.
This year, the week is built around the key themes of Valuing Heritage, Conservation Science, Community Heritage, Oral Histories, and Heritage Digital, drawn from the expertise available at Portsmouth.
Each day we will be exploring a different theme and looking at how our research and expertise can be of benefit to the community of Portsmouth and beyond.
All sessions will be delivered both in person and virtually, via Zoom. You can view the full programme of events on our Eventbrite Collection Page.
Don't forget to book for our closing event; a roundtable discussion on the Future of Heritage in Portsmouth, involving academics and representatives from the Portsmouth community!
THE HERITAGE HUB
The University of Portsmouth Heritage Hub supports the development of interdisciplinary links across the University, to encourage and develop heritage-based activities.
The Heritage Hub will provide greater visibility, focus, and structure to the University's role in forging heritage networks, projects, and interdisciplinary capacity within the University and throughout the community.
The Heritage Hub will establish a supportive infrastructure to nurture its members and cascade opportunities to them. It will also act as a forum to enable pubic engagement in Portsmouth.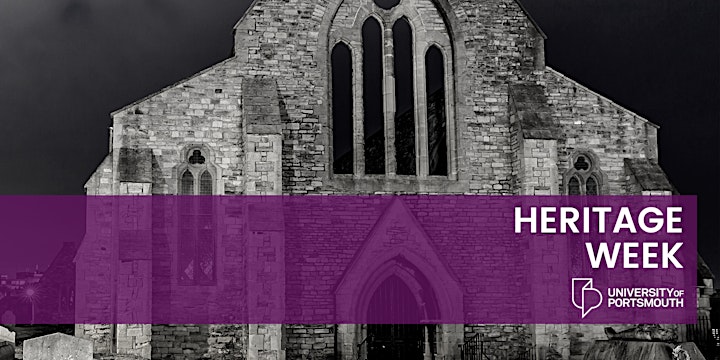 FAQs
If you have any questions about this event, please contact ris@port.ac.uk
Accessibility and special requirements
We will endeavour to provide particular access requirements on request. If you have any access requirements, e.g wheelchair access and hearing loops, please get in touch in advance of the event.
Covid Safety
We are following the current University and government guidance for Covid.
As a courtesy to others, please do not attend the event and cancel your booking if you test positive for Covid-19. You may exchange your in-person ticket for a digital one and join the event via Zoom.