Chief Executive Officer and Founder of Music Fusion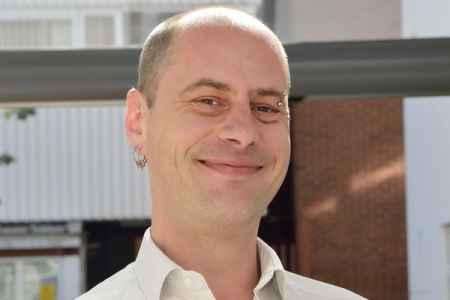 I see this residency as an opportunity to explore exciting new connections between the University, business and positive social action.
Jinx is an Alumnus of the University of Portsmouth and the CEO and Founder of Music Fusion.
Music Fusion is a charity based in Havant that provides music making activities to young people who might not otherwise have the opportunity, and bridges the gap between these young people and their community. The charity has delivered music projects to over 35,000 young people who have experienced challenging life circumstances, building their confidence, self-esteem and communication skills.
Jinx also organised Portsmouth's DVMISSION from 2006 until 2016, an annual, non-for-profit and independent film festival. What makes this festival different is that all the films screened during the festival are made in just 48 hours.
Jinx's work has been recognised in the following awards:
The Seif Award 2012 where he was recognised as the individual to have best collaborated with business to benefit the local community
The Inspiring Social Action in Young People Award 2013 presented at the Business in the Community Gala – Royal Albert Hall
The Youth Music Social Action Award 2021 sponsored by Hal Leonard Europe for Music Fusion's Mavericks Programme
Jinx Prowse can offer particular expertise in:
How to be a responsible business
Setting up and running a non-for-profit organisation
Accessing and engaging with the youth sector
Submit an engagement request
If you're a member of staff, student, alumni or Innovation Connect member, you're entitled to work with our Entrepreneurs in Residence. Submit our short form at the link below and we'll work with you to help you get the best EiR support.